»

»

The August report (and...
Laps, alps and pals! As ever, it's all go in Glossopdale and beyond. Keep your reports coming in to gdhweeklyreports@gmail.com. Here's what's been happening over the last few weeks:

GDH 100m Sprint Challenge

As part of the 40th Anniversary celebrations, we gathered at Glossop Cricket Club on Friday 19th August to test our skills at a very different sort of running to what we're used to – a 100m sprint! After watching the little'uns do their 50m, and a stellar warm up from Charmayne, we raced 2 at a time and kept our fingers crossed that nobody's hamstrings went ping! 2 x 100m sprints was enough to earn beer and pizza, and excellent fun was had by all – many thanks to Ian and Nat for organising.

Here are the results:
Juniors 50m
Ralph Bann 11:67
Alina Hartley 15:86 19:54
Jacob Stinton 23:63
Seniors 100m
Nat Hicks (M) 13:36
Steve Crossman (M50) 14:20, 14:34
Steve Kirkham (M40) 14.25, 14:32
Steve Page (M) 14:45, 14:61
James Barnard (M) 14:77
Immy Trinder (F) 15:14, 15:20
Ian Crutchley (M40) 15:52
Dan Stinton (M40) 15:77, 16:64
Charmayne Brierley (F50) 15:78, 16:50
Ben Hartley (M40) 15:97
Pete Harrop (M40) 16:68, 16:86
John Stephenson (M60) 17:76, 18:52
Lins Palmer (F50) 17:80
Rachel Boorer-May (F40) 18:11, 18:61
Ian Jackson (M50) 18:26
Charlotte Bliss (F) 18:90
Alison Holt (F50) 19:25
Emma Rettig (F40) 19:57, 20:70
Wendy McMahon (F40) 19:77, 19:83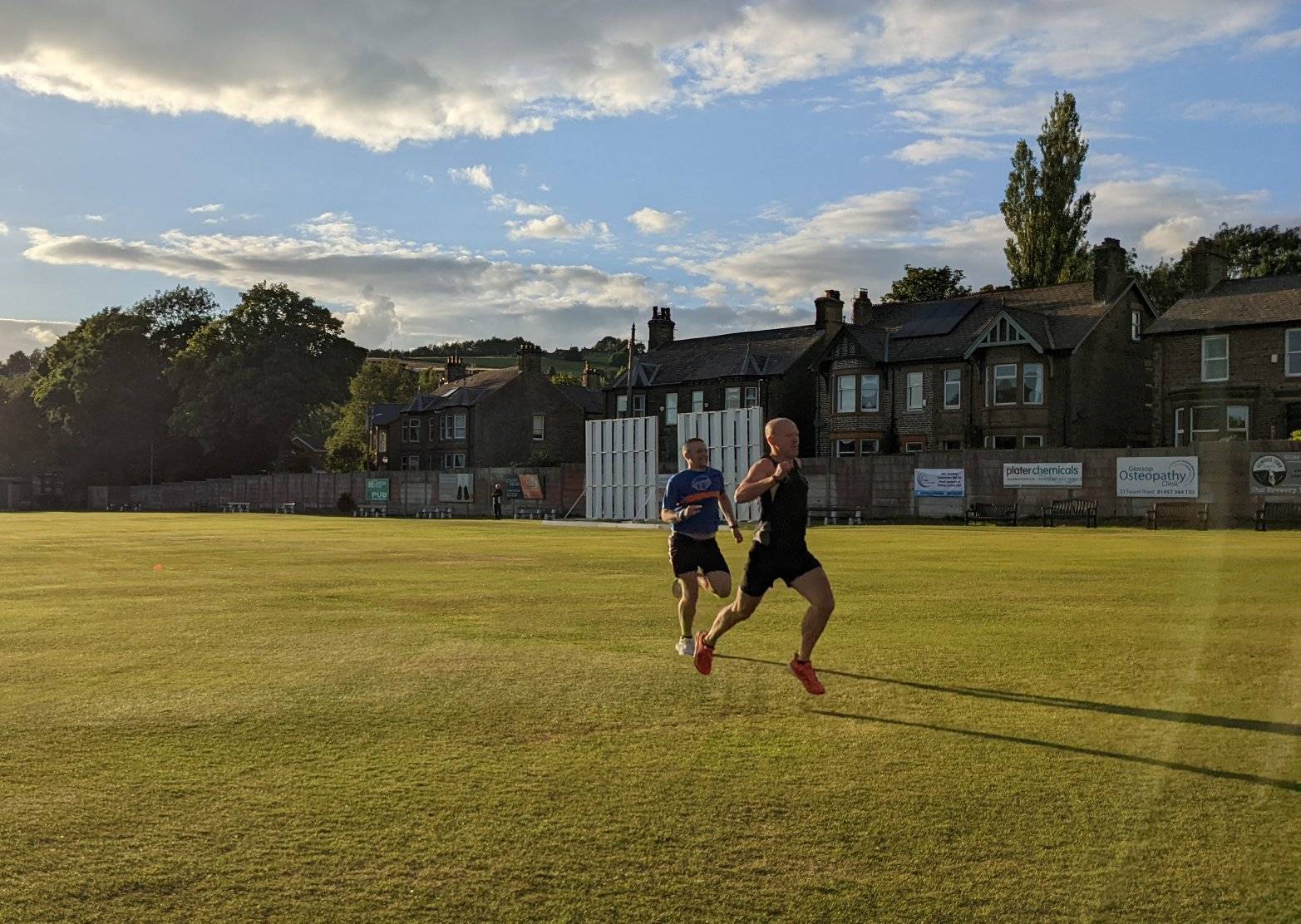 Lakeland 50 Race Report – Daniel Stinton
I may as well have just gotten out of the bath the amount of water that was soaking through my shorts as I slipped through the ferns on the descent to Haweswater. It always feels like a big milestone on this route as you approach half-way and have the biggest climb out of the way. Just a long trek along the edge of the lake before you have to embark on any more "up".
The 50-mile runners always get warned in the race briefing that, just because there's a 100 mile (actually 105) bigger brother, that it's easy to slip into the mindset of saying you're "only" running the 50 which is still a very long way after all. With lots of weaving through the valleys and passes, whoever planed this route certainly wanted a sting in the tail, with the final checkpoint a mere 4 or so km from the end before you embark on the final demanding climb. This year as I clambered up, the lady who had sat next to me on the coach (who I'd not seen the entire race), casually said hi as she seemed to effortlessly glide past me. Finally I was descending down into the copper mines over tricky rocky ground, which is a great one if your knees are hurting! Then its round the corner into Coniston, raucous cheering from the pubs as you pass by (if you get there whilst they're still open!) and a huge cheering reception for every runner in the finishing tent. Medal, t-shirts, beer and attempting to take my socks off followed before the slow hobble back to the campsite!
This was my third completion of the Lakeland 50, and despite some questionable training, I somehow managed it in my fastest time yet (10:33). I think knowing the course quite well really helped break it down into more manageable chunks and helped me just get on with it, and I stuck to my strategy of keep drinking, keep moving and keep eating (probably in that priority order). This has been one of my favourite races for a while, it's just an epic event in the lakes and a great weekend away!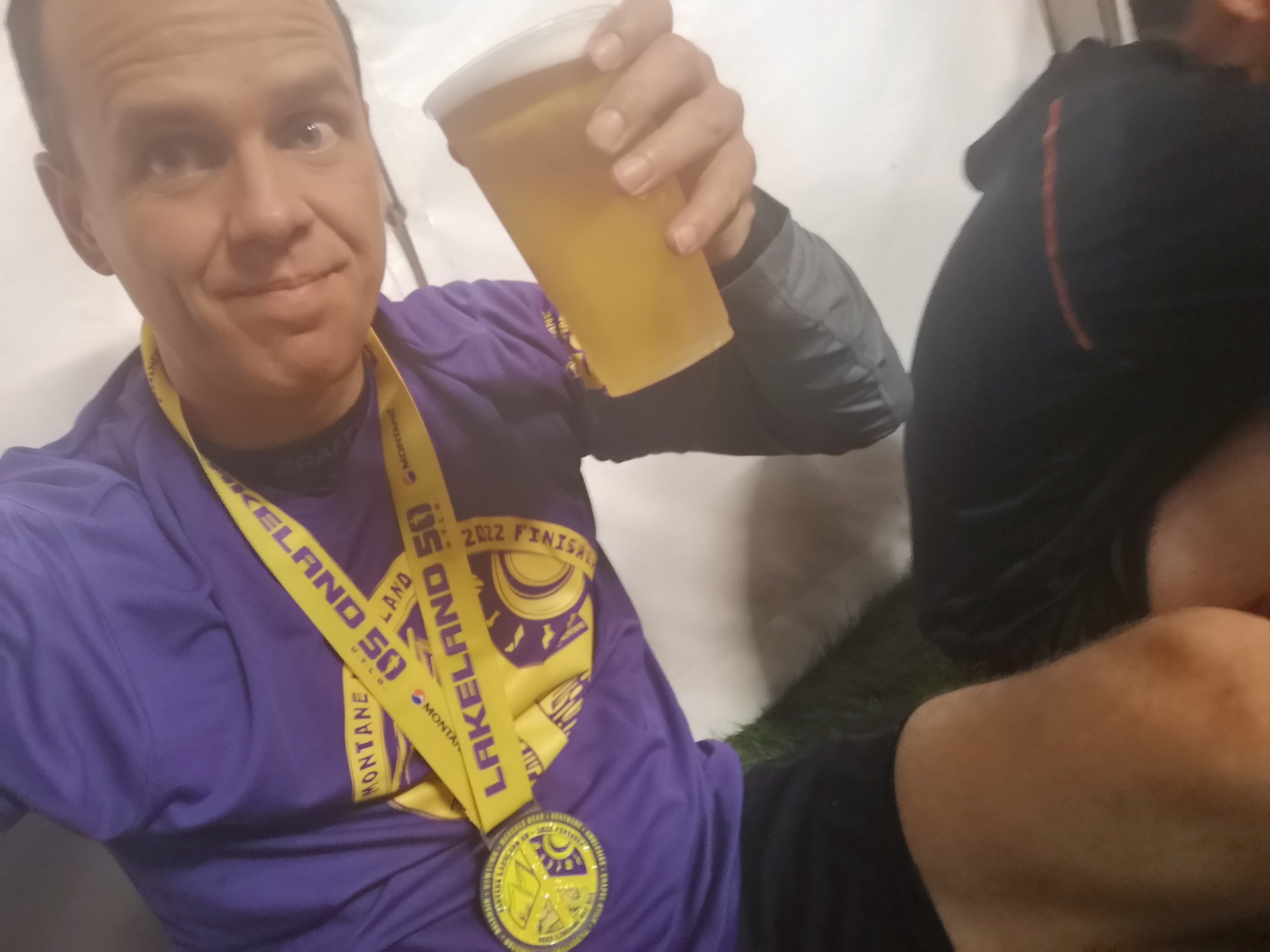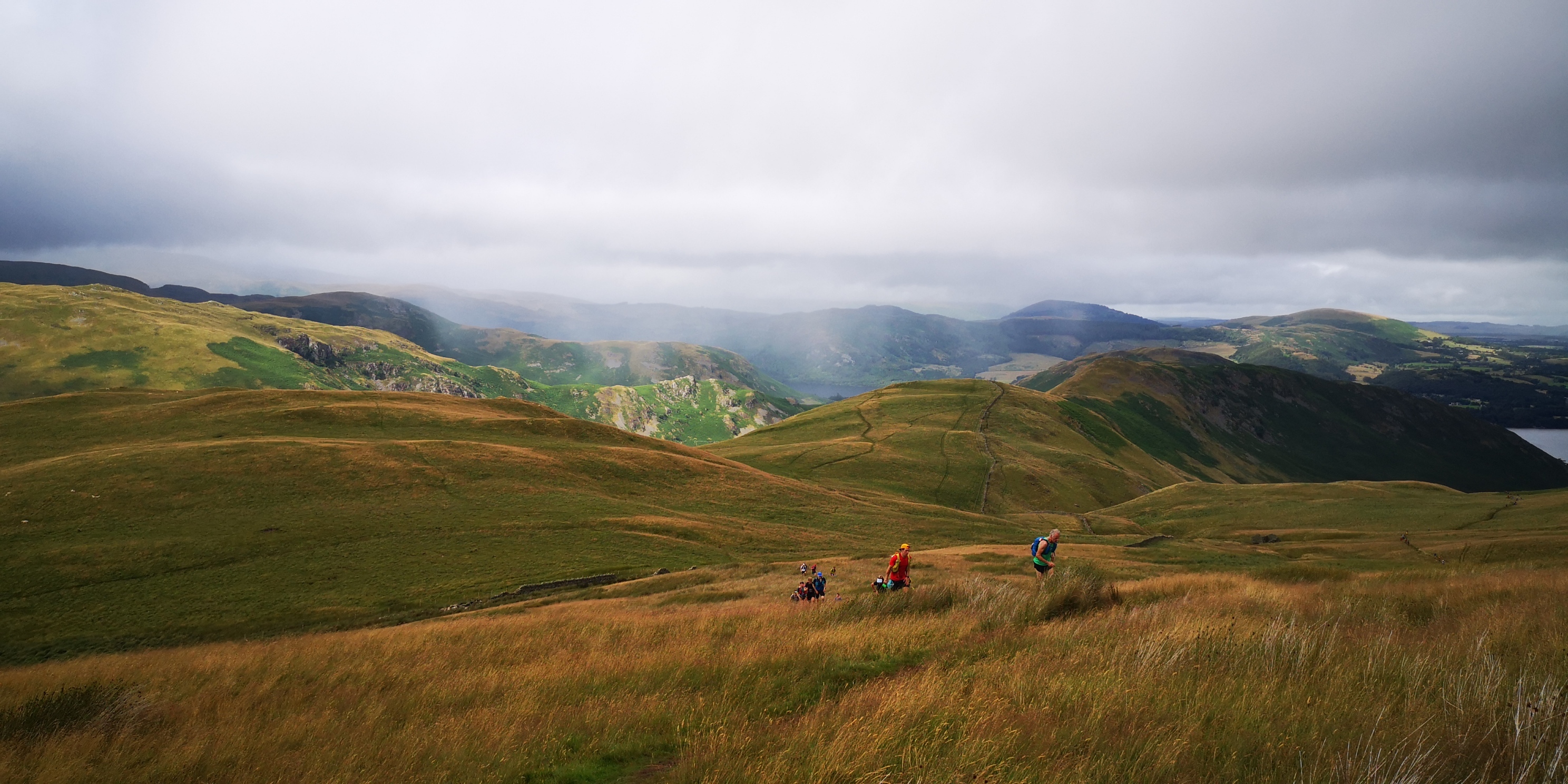 Échappée Belle – Chris Webb
It's good to do different stuff and this year I've raced cross country, road (10k to marathon) and fell races, but I had my eye on a long, rough adventure in the Alps. I've got a list of notoriously hard races that I'm slowly working my way through and for 2022 I was entered in Échappée Belle which is a traverse of the Belledonne alps from south to north, It's a beautiful, natural line which involves about 150km and 11,000m of rough and rocky terrain with most of the route above 2000m with a high point just under 3000m. The race started in Vizille and the rain was already coming down. As we climbed, the rain became pretty torrential accompanied by gale force winds and for the next 9 hours it was pretty full-on! It did help me keep a lid on my effort levels and by the time it cleared I was still in decent shape rolling into the first life base at Le Playnet about 65km in; it also became clear that others had gone out too hard and were paying the price. I knew the crux of the route would be overnight with some brutally steep climbs and descents so I dug in and started to make my way through the field. The night demons were after me at 4am ish and I was tempted to lie on the ground and sleep but there wasn't any flat ground to lie on so I just got on with it! Typing this in a few sentences makes it sound like it was all a breeze but I can assure you it was hard work (and I suffered!) but when the sun came up at Ferices Refuge (km110) I was greeted with an awesome 360 degree view of the mountains. There were still what turned out to be over 10hours to go though and none of it was easy! I finally arrived at the finish in Aigubelle in glorious sunshine after 33hrs and 47mins which placed me 47th out of about 600 starters. To put it in contact, Francois D'Haene hold the record which is 23hrs 54mins, nearly 4hrs slower than his fastest UTMB time despite this race being 16km shorter. If you're after a true, technical mountain race with a friendly atmosphere, take a look at this fantastic event.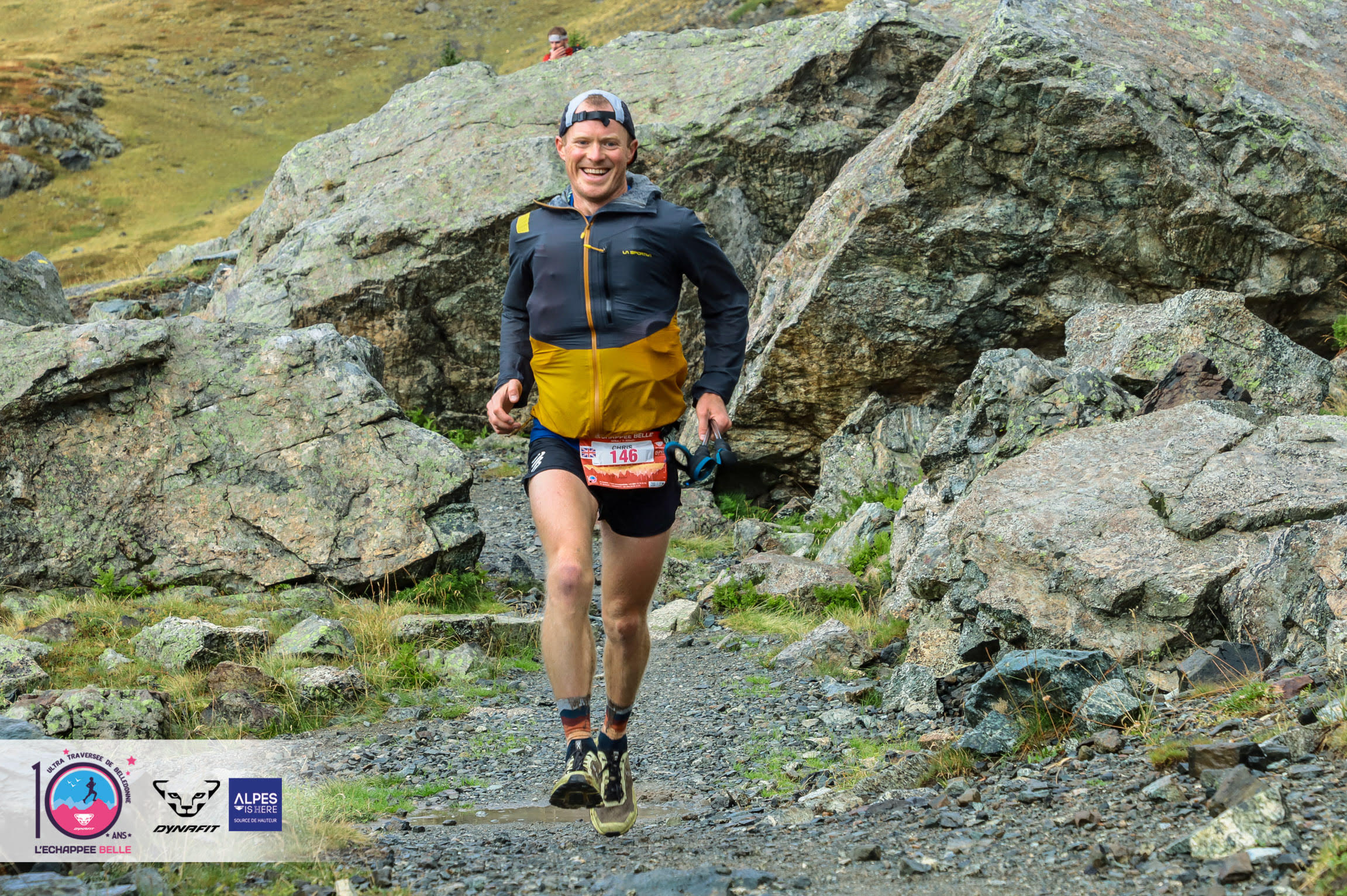 Manor Park Marathon 2022 – Daniel Stinton
I had to apologise to the total stranger that I'd just eagerly approached at 5:15am on Saturday morning as they were rummaging in their car boot with a head torch on. To be fair, I couldn't think of many other reasons to be arriving at the park at this ungodly hour, but it turns out they wanted to do a bit of skating! So far I'd only seen chief duck botherer Guy Riddell disturbing our poor feathered friends for the umpteenth time. Luke Holme was also there, but had taken "running" to a whole new level and was just lying in his car. They'd both started at midnight, but running all night with Luke must have taken its toll and Guy said he was thinking of bailing out after the next few laps. As far as I knew this was the full field so I made my way over to the official start line at 5:30am and started running. I felt like I'd been running ages and it soon dawned on me that I was still only part-way through lap 1. I was in for a long morning…
Several laps later and the early-morning sun starts to bring the park to life. I saw Sean Phillips at one point not far behind me, but then he was gone, so I thought maybe he was just out on an early run and had popped through the park. It turns out he'd started lapping at 5:40am but such is the way with MPM – it's easy to be running laps and not see someone. He did lap me at maybe 1.5-2hrs in and it was a bit of a boost to know there was actually someone else out there!
As time ticked on, and I got past the halfway point, various Harriers started emerging on the course and it started to liven up a bit. Immy Trinder joined me for 7 laps before parkrun which was a good moral boost. With no whiteboard this year, it was a little difficult to know what happened, but it was something like the table below (inaccuracies will be rife). Only two full MPM completers this year and top MPM spot goes to Sean, who completed the 24 laps, had time for a short break and then knocked out a 20:22 parkrun. Most number of laps goes (as usual) to Ultra Trail Manor Park (UTMP) stalwart, Guy Riddell with 32. Top running!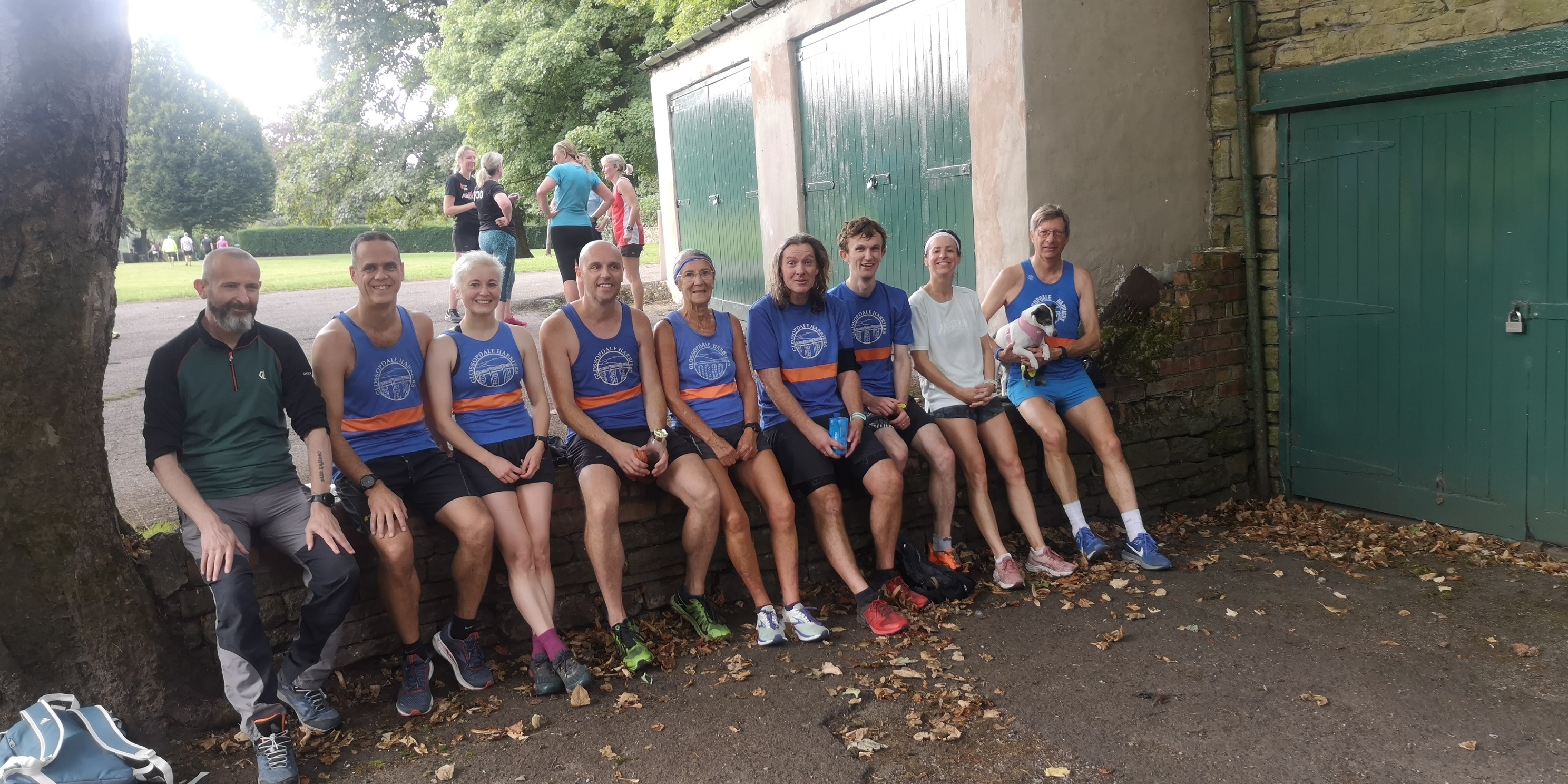 The Trunce – Paul Skuse
August has finally seen me on the Trunce and I can't recommend it highly enough. Low key, £2 entry and a very nice route. The only downside is the early start time of 6:45 so you need to be pretty organised to get there on time.
My second race of the month was Cracken Edge. A local classic and one that looked like it wasn't going to happen until well into the season. I'm so pleased it was on. No idea about results but I remember quite a few of our ladies grabbing bottles of wine at the end. Well done all.
Eccles Pike was a hot one and had a record turnout. GDH had about a half a dozen runners on the field. Despite the heat, conditions were better than previous years. Again, no idea about results. I actually sacked of the pub at the end as I was so sweaty and grimy. I did however learn a new phrase to describe the particularly pungent post-race runners aroma: I stunk like witches piss.
On to the big one, the Bradwell English Champs race. Even hotter than Eccles Pike. 4 water stops in a 4 mile race tells you all you need to know. It was really tough. Superb running from GDH. Its worth coming to watch an english champs race just to see how fast the real fast lads and lasses are.
Managed to get another Trunce in on the 22nd but forgot to charge my watch so didn't record it.
Only Eyam to go this month. Get on it. It's ace. Hope the beer queues aren't as long this year.
The midweeks are almost over but there's still the weekend races and XC is just over the horizon. Hope to see you on the start line.
Black Knight Charge – Paul Skuse
A brilliant GDH turnout for the Black Knight Charge. Turns out my race route memory is worse than thought. I could only remember the flat bit and thought the initial grassy climb was much longer and steeper. The vast majority of the undulating route was a complete but pleasant surprise (I do like a good runnable climb) but I don't envy anyone trying to nav it themselves. After 3 turns I was clueless as to where we were but it was well flagged and marshalled so no worries. Some stellar performances throughout the club. As well as the many, many prize winners, I'd also like to give special kudos to Frank H who is just smashing it. I just really wish he wasn't MV40!
Stoney Middleton – Paul Skuse
Stoney Middleton. Last one of the month for me. I had hoped to see a few more GDH vests out on this one. In the end, it was just me and Ben R in the blue and orange (that lad has really got the racing bug!) with Stevie K in his other vest (but he's one of us really).
Another humid evening but nicer conditions than in previous years. There was a good turnout for this little race; plenty of my nemeses were lurking around to keep it spicy.
The route is pretty simple; you run around the playing field (pretty quickly if you want to avoid the bottleneck), out through a little gap and onto some little, narrow paths and then go up a road that turns into a track (I think it's the steepest high street in Britain or something like that). It's all runnable and goes on and on and on. It was proper hard graft. Then you turn to the left on a smaller track and continue to climb. I'm guessing but I think its climbing for pretty much half the race, just over 2 miles. And when finally at the top, you then have to come back down in a bit of a twisty pattern through various fields and lanes till you end up in the playing field where you started. It might not be the most exciting route but I LOVED IT. It certainly has to be my best race performance of the season and possibly my best ever- my legs were knackered at the start from the previous night's race but the stars must have been aligned cos it was awesome.
So, with the racing done it was time for a burger (beef, lamb or halloumi), a pint and a chance to enjoy the evening air and atmosphere. We chatted with the other runners, made a new friend in Paul from HRC (one of the most enthusiastic racers I've met -he really gets it) and raised a glass to Nev who helped get me started in the racing world. It was a really special evening.
Plenty of exciting stuff happening over the last couple of months – well done all! A little reminder, too, of our club programme and upcoming events:
Club Programme:
Tuesdays – Coached session and marathon training @ 6:45pm. Meet at the end of Green Lane in Simmondley.

Wednesdays – Strength and Conditioning for Runners @ 7pm. Meet at the tennis courts in Manor Park.

Thursdays – Social Run and Plod Squad @ 7pm. Meet outside the Leisure Centre.
Hodgson Brothers Mountain Relay:
Once again, this year we will have a qualifier event for to select the team for the Hodgson Brothers Mountain Relay. Ideally we will have a mixed team, which will consist of 4 women and 4 men. This mean the first 4 men and first 4 women from the qualifier will make the team (not necessarily the first 8!).
Last year we didn't have enough women for a mixed team so had to revert to an open team. We can do this again if needs be but I would really like to encourage plenty of ladies to come along and try out!!
For the qualifier we will meet at Bowden Bridge in Hayfield at 7pm, then jog up to Kinder Reservoir for the start. The route will be the same as last year – up Sandy Heys, down William Clough. The route is 6km x 400m climb, obviously quite tough and technical, but will be easy to follow. Please see the attached map – I will get a better quality image and GPX file out ASAP!
If you cant make the qualifier date, but want to be considered for the HBMR team, please let myself or Ian know and we'll work out another way for you to submit a time.
The HBMR itself will be on Sunday 2nd October – last year we all did it just as a day trip in two cars. If you have any questions about the race please let me know. You can also find out more on the HBMR website: https://hbmr.org.uk/.
British Fell Relays
For the British Fell Relays, there will be no try out – just register your interest with Immy and/or Ian if you are interested in taking part.
The British Fell Relays will be hosted by last year's winners Carnethy Hill Runners, in the village of Broughton, which is approximately 1 hour 20 minutes north of Carlisle (3 hours 45 north of Glossop). Here we can several teams of 6 runners (historically 4 teams, but not limited to). For this one, bear in mind the potentially very long day. Note, as with 2021, no dogs are allowed at these relays, not even on a lead. More details here https://carnethy.com/carnethy-organised-races/british-fell-relays-2022/
GDH 40th Anniversary Social
Don't forget to book your tickets for the Club's 40th birthday party. It's going to be a great night, with family and friends. Entry is by ticket only so please register for your ticket: https://www.eventbrite.co.uk/…/glossopdale-harriers… If you have any dietary needs, drop me an email when you register for your ticket: membership.secgdh@gmail.com.
Former GDH Members: We would also like to extend an invitation to former members of GDH to join us to celebrate 40 years of Glossopdale Harriers, so if you are in touch with any former members, please share this link with them and ask them to join us.
GDH Club Kit
As some of you are aware, we currently have a very (very) limited stock of kit but the good news is we are working with a couple of suppliers and we hope to have something finalised by the end of September which, all being well, will mean GDH members will soon be able to order their kit on-line.