It has been a very weathery month so far but that has not deterred Harriers from pinning on race numbers and doing their running thing far and wide. We also kicked off our 40th anniversary celebrations with a mass photoshoot and a lot of blue and orange running and marshalling at our lovely local parkrun.
Let the 40th anniversary celebrations begin! (courtesy of Vicki Doyle).
A year of Glossopdale Harrier 40th Anniversary celebrations has finally started with a photoshoot on Saturday 16th July where sixty-nine Harriers (old and new, young and old) and 1 dog showed their very best club colours for our Harrier expert photographer, Alan Schofield. The anniversary sub committee are hard at work planning the party in September and ideas are being formulated and developed to make sure it is a bumper year for our club members.

July Racing (courtesy of Paul Skuse)
July's races started on Sat the 2nd with the Thurlstone Chase. Top little race. It's not really a fell race, it's a trail race over farm tracks and lanes. Thoroughly enjoyed it (and took 4th overall and V40). Ben R and Tim C also were out with John P supporting.
On to Sunday 3rd and a last-minute rock up and run at Great Hucklow (a rival talked me into it). Just me and Cheryl from GDH on this one. First time for me on this course and it's a bit spicier than anticipated. The climbs were fine but the bushwhacking over Astley Moor (?) took a lot out of me. Came 8th so pretty pleased with that. Cheryl took the fv40 –winner!
Monday the 4th and one of the absolute racing highlights of the year: The Hathersage Gala fell race! It's a 5/5 race. This should be in next year's champs. Just me and Si Watts on this (but supported by Ben H). Si smashed it coming 13th. I took 15th.
Sat 9th. Charlesworth Carnival Fell Race. You were all there so there's no point writing about it. Star of the day was Matt Crompton for sorting the kid's races. A great day out and top prizes for Ben T.
On then to Sunday the 10th and Peak Forest. Another one of my favourites but the legs were really feeling fatigued. This is a really nice white peak trail race; pretty much all runnable and nice and grassy underfoot when of the paths. Me, Mel B and Rob M on this with support from Chris J. (Nobody recognized Rob M cos he didn't have his woolly hat on 🙂 ). In his other vest, Stevie K. utterly smashed this coming 2nd and V50. It's great to see him back on form and possibly better than ever.
Weds 13th Bamford Carnival – the best Bamford race! Just me and Mel B this time (and I did the driving!) No idea about results but I had a proper battle with some Dark Peak lads. Proper mid-week racing.
Thurs 14th. GDH V Pennine. Great event (but a tough, frustrating route). Thanks to all who organized it, sorted the secret recce runs and so on.
Weds 20th Millbrook Monster. Another highlight in the racing calendar. The path up felt much easy this year than it has in the past. Ben T is flying. Took 3rd. Team GDH did all right for prizes with me, Steve C and Tom S taking our age cat. prizes. Some really strong performances from the club (Frank H and Pete S) and a good GDH turnout plus support from Ben R. Guy has already linked up the full results.
Endure 24 Leeds (courtesy of Rachel B-M)
It had been a very long almost 7 months of training for my first 24hr running event at the beginning of July which was Endure 24 – consisting of 8KM laps and completing as many as I wanted to within the time limit. My aim was 100KM.
First of all one of the biggest things for me to tackle was camping for the weekend! I personally don't like camping and had no equipment and had to beg steal and borrow almost everything! Apart from a pop up tent I purchased second hand! Once I pitched my tent up I went and joined the Start 2 Jog lot that were in the beer tent. They'd got a DJ on, so I joined along in the festivities and danced like a fool and drank zero alcohol beer! The music ended at 11pm and it was sleep time!
Race day – made sure I had a good breakfast and was hydrated properly. Taped myself up with Rock tape and put loads of anti chafing stick on. When it was time I made my way to the start. The atmosphere was amazing! I pitched my tent right by where I ran past it after each 8km so it was easy enough to get back to for fuel. I made sure after each 8km I had a little bite to eat. I also made a laminated sign that fit on my running belt with 'solo' and my name written on it and I'm so glad I took the advice from others to do this. Frequently throughout the race runners were giving me the encouragement I needed to carry on.
It got to 6pm which was 6hrs of running with only a 5 min or less stop to refuel each lap, so I then decided I needed something a bit more substantial to eat. So I stopped for about 20 mins and had a sandwich and some crisps and made sure I was still walking up and down as didn't want to stop completely incase I couldn't get started again! By this time I had completed 30 miles, and felt like I'd still got a lot more left in the tank.
I completed another 15 miles and was starting to flag quite a lot. My plan was to get to 50 miles and have a break. Mile 45-50 I started to struggle, my feet were really hurting and I felt like I'd lost the will to live. This is when my laminated sign really helped with other runners encouraging me to carry on. I finally got to the end of mile 50 and stopped for a sleep, I felt like I really needed it. I was also advised to change into what I was going to wear when I got up again, so I did. Just took my trainers off and kept them off. My feet were full of blisters on my toes and heels, along with blood blisters. But I ignored them for then and tucked myself up for a few hours sleep. This was around 0135am.
I set my alarm for 4.30am but I could not get up, it was too cold! So I set it again for 5.30am and got up then. It was a struggle getting my trainers and socks on as my feet had swollen and due to the blisters. So I taped my feet up and carried on. The last 3 laps or 15 miles were excruciatingly painful, my feet were so so sore. I walked the last 3 laps.
Lap 11 was bad, lap 12 was really bad, and couldn't have done it without messaging my team at work who were sending me whats app voice messages of support. And lap 13 was more than a slow hobble, and I cried pretty much the whole way round and couldn't have done it without my sister in law walking it with me. I made the last lap with 30 mins to go before the time ran out!
This event took my all and everything to do it, more mental grit and determination than anything else. But I am so proud that I managed to do it. I would love to do this event again in the future but next time as part of a team and not solo if anyone is up for it!
In the back of my mind I had hoped for 100 miles, but unfortunately this was a pipe dream, there is no way my feet could have carried me a mile further. I also raised over £600 in memory of my dad for the Lung Foundation, thanks to those that sponsored me.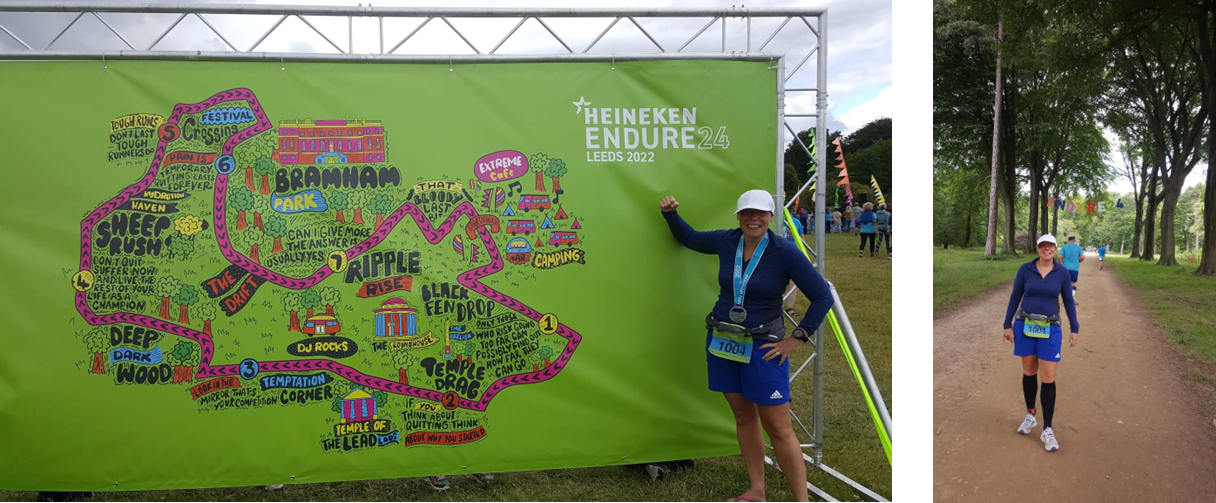 Lakeland Trails 55k (courtesy of John Pollard)
Got a lateish entry on this due to so many deferrals to next year (will join you again then Anne Williams) but figured I'd done enough miles to give it a decent pop. Ran LT in every location they use but had never done their ultra so was looking forward to this, until the weather forecast started to suggest a steamy weekend ahead. Registered on the Friday when it was very muggy but the Saturday dawned beautifully clear and sunny. It was going to be hot though so I needed my fuelling plan to be spot on (yes, I was taking it seriously 😉 ).
I knew that only Bliss from GDH was doing it as well as me and met up with her and her London pals in the Rothay Park field HQ about an hour before the race. Plenty of time to chat shit and get selfies. There is a 9am start for those that are maybe gonna take it easy or walk A LOT….we both had the 10am slot booked. Talking to one of the organisers I discovered there were only 70 of us setting off at 10, whereas over 300 had gone at 9, so we had a few to aim at! (And to the organisers dismay, out of 193 final entries for the 100k ultra, which set off at midnight, only 110 had showed up….why?!).
Not sure either of us had a fixed idea of what time we might do or aim for but 8 and 9 hours was chucked around a bit. Given it was to be warm it was best to see how the pace felt.
So, the first climb starts immediately, up the tarmac of 'The Struggle' towards the top of the Kirkstone Pass, though soon we were on the trail alongside the road, thankfully by-passing Wansfell Pike. It was definitely warm! So I was determined to stick to something like my fuelling plan of about 1000mls electrolyte an hour and as many gels as my stomach could stomach. I did run most of this 4 mile ascent.
Got into a nice chat with a small group as it was early days, and I'll pretty much talk to anyone. This included a female who'd done it before and could give me some measure of what was a sensible pace…and she said her husband had won it last time, and she wanted to get his time plus 50%…possibly 9 hours. I called her Asics lady as we discussed her new Asic shoes, and I was chatting more shit to her descending from the Kirkstone when I turned around and realised she had dropped back and I was basically in a monologue.
That descent was the closest it got to a fell race with soft grass and rocks underfoot and even some boggy bits! Was my favourite descent in the race. After a bit of trail we recrossed to Brothers Waters where it's a narrow, twisty, tree-rooted path and I turned my ankle on this causing me to stop and have my first pee (the electrolytes were working!)…possibly TMI though? (Ed: yup) More trail through Hartsop, passing a lovely path for Angletarn Pikes and Beda Fell…how I fancied a dip already…
Finally we got to the tedious road stretch from Patterdale to Glenridding but couldn't cross the road to the pavement due to coinciding with a motorcycle convoy of, I exaggerate not, close to 100 bikers. But we got to Glenridding and feed station/ checkpoint 2, 11 miles in now, where I needed to refill 3×500 ml soft flasks with the secret ingredient as there was a long climb up Grisedale ahead….I was actually on my own by this time but there were plenty of runners milling about hugging the shade while they re-charged. I also drank some rola-cola here as well as a few slices of cake, and left the village hall on my own, burping and farting freely.
By now I was catching up some of the 9am starters and there was a small diversion of the route around Lanty's Tarn due to fallen trees, but the track only climbed sharply for a bit before becoming more runnable as the fell view opened up along Grisedale. It does steepen again for the long drag up to Grisedale Tarn, and I found myself passing a lot of the 9am starters along this. The view ahead was also inspiring with the flanks of the Helvellyn massif to my right and Fairfield to my left. Only irritation was the absolute lack of a breeze. I'm sure it was a day for the ridges but Guy Riddell, who did a BG leg with Nat Hicks that day, later told me there wasn't much air on the tops either.
Finally, Grisedale Tarn arrived, or at least I did at it, and I was not surprised to see two runners taking a dip in it….very relaxed! There was a hint of breeze until we angled left, past the possible ascents of either Seat Sandal or Fairfield…then the breeze was gone again. And on the technical, rocky, engineered path down away from the tarn I had my worst moment of the race. I got cramp in my left calf and was immediately cursing profanities, this was 16 miles in, far too early for that! But I do sweat buckets and I wondered if I had taken enough fluid on. There was only one thing to do….get a lady with poles to unzip my race vest back (I'm lazy) and pass me the emergency flask, and take some additional salt capsules. It slowed me down a bit and I felt a bit rough all the way down the long descent into Grasmere, but it seemed to do the trick, and I managed to keep up with a young guy who I'd chatted with earlier as we made it in the very obvious heat now to CP3 and…the feed station!
There was another steep climb from there up toward Silver Howe, so it was a repeat of filling all the flasks plus a selection of sweet treats. On the ascent from Grasmere I chatted to a couple from the Trail Terriers RC, who I'd never heard of(it's a free national virtual trail running club for trail runners/bimblers of all types apparently). The route heads for Chapel Stile and the Langdales now, and there was decent running through the bracken till it dropped down into the valley. I ran alongside a lady from the 9am starters now, but she was running well, having also swam in Grisedale Tarn. She was using this as a training run for the Lakeland 100 at the end of July, and her strategy was to walk ANY incline and run the rest. I spent a happy hour running into Langdale with her(she lives in the valley too, lucky woman) but left her at the next feed station, where we told water was running a tad low! 23 miles done now.
With a half marathon still to do I felt strangely optimistic as I was running ok and the cramp had not reappeared. Thank you Precision Hydration! A fabulous, if rather sweaty loop round Langdale accounted for the next 7 miles till we headed back towards Elterwater and the final Langdale CP/feed. Slight consternation here when one of the marshals told us, 'you've got it now, only 10k from here'….according to a 55k distance we only had 7k to the finish, but I was told the course measures long!
Nice official photograph taken on this stretch, including a banner 50m before him, saying 'SMILE-camera'. So for once I was smiling not gurning.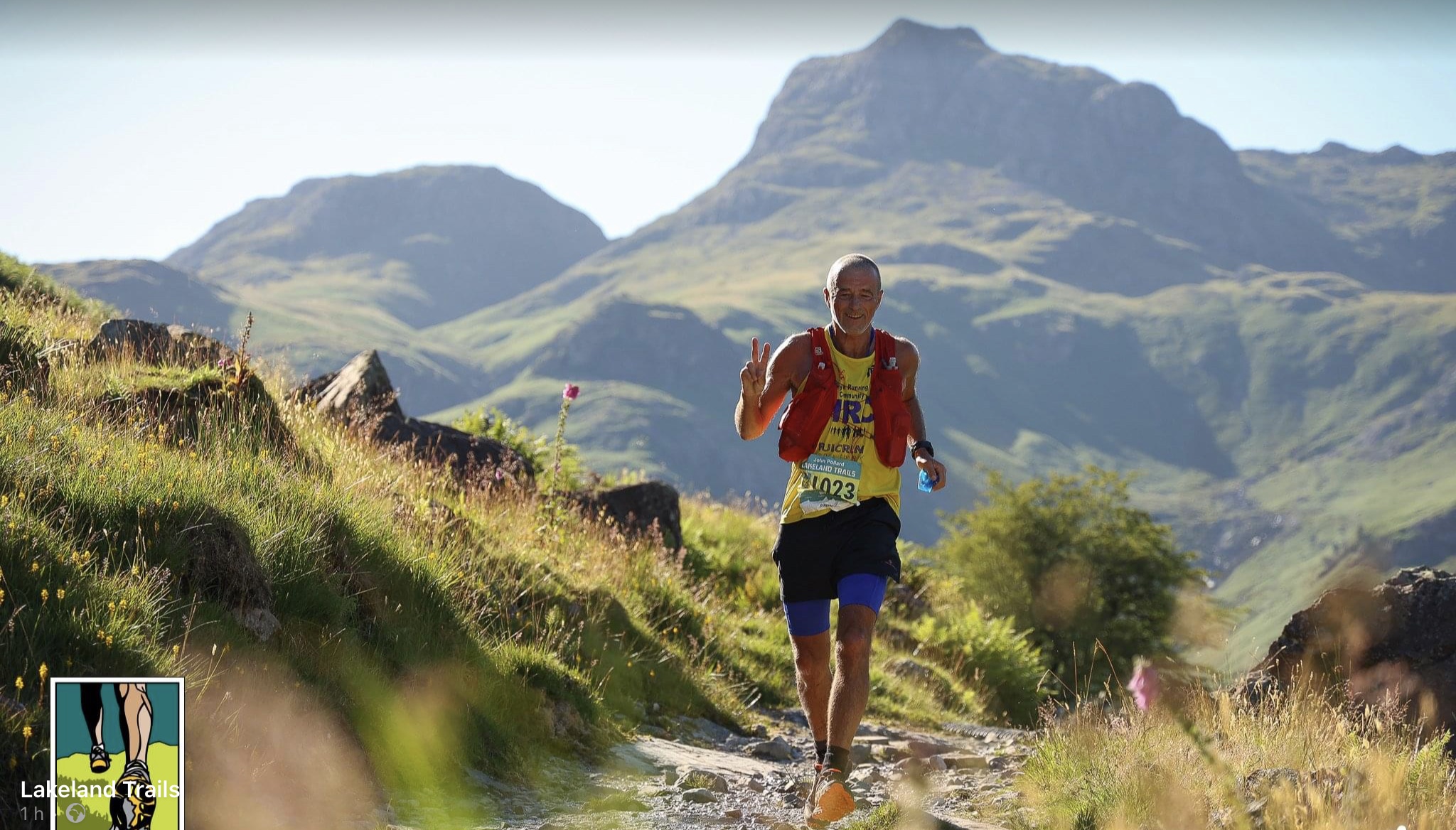 Only a minor climb around Loughrigg left to tax you by now, but this was where we saw the casualties. I'd caught up with a young lad from Barrow and, as we climbed and chatted about Barrow F Cs season of survival in League Two (who knew?), we first came across a chap on his phone by the side of the trail and his pal looking green, lying on the ground throwing up. He was phoning for help and we later learned he'd recovered, but not a pretty sight. Then a little further on I spied a large bag shape round a bend, thinking it was a bag of rocks left to help engineer the path; it was in fact a body, well a guy lying with his dehydrated head poking out while 4 medics/officials tended to his needs. We later learned that he too recovered after treatment, but that he was known to the organisers as a guy who 'doesn't know when to stop or slow down'.
Me and Barrow-man were joined by the young guy I'd ran stretches with earlier and it was just a case of sprinting (haha) down the steep cemented downhill into Rothay Park and the finish. I'm too competitive for my own good sometimes but my tank wasn't empty so I shot away from the two lads to finish in my own little funnel of glory and that was it. It measured 58k in the end and I took 9hrs 7m – the error there being I faffed for about 35 mins at feed stations. I'd have spent less time if it hadn't been so hot tbf.
Done that got the t-shirt, but honestly I'll be back next year. Bliss I know you didn't enjoy it like I did, and I'm sorry about that but hope we can line up again.
Glossopdale v Pennine Test, 14th July 2022
A fun event by all accounts with a lovely pic and a great result – well done Immy, Zoe and Nan. More photos, videos and info are available on FB.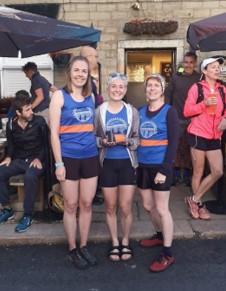 Manvers swimrun mash-up (courtesy of John Pollard)
I hesitate to call this a duathlon, but it will hereafter be called 'the duathlon'. Whatever it was it was my first effort at running and swimming at the same time, if you get my drift. Running in 2mm thick, not shortie, wetsuit in 30C temps will not be recommended by your doctor, but maybe your dietician would. The event, sorry, duathlon, was I believe the brainchild of Immy T (guessing) from last year's mash up. But Cathy M seemed to be the driving force behind urging sign-ups to this second one. And sadly, Immy was ill on the day and didn't make it.
I was giving David Christie-Lowe a lift and after picking him up I neglected to check my sat nav and assumed the route was via The Snake pass. So getting on for an hour later, after an engaging chat with David and no concentration on where we were, it became apparent we were in the Sheffield suburbs not Rotherham and finally switching Waze on, realised it was still another 40 mins to go as I should've taken the Woodhead. Bombed out trophy contention right there, except Ben Hartley is in a class of his own.
There was a real danger we wouldn't make it on time for the 2pm start now, especially after another wrong turn on the dual carriageway (my fault or co-pilot David?) and Kate Bowden's texts were coming in…'you ok, you set off an hour before us?'… That was an interesting detour to read about wasn't it?
On arrival all the Glossopdalers (a bevy of beauties…plus Dan Stinton) were assembling outside the changing area to listen to the safety briefing and general intro. The guy mentioned some 'tricky bits' which wasn't exactly music to my ears but he was referring to some of the run sections in between swims. We were not to be navigating the course on our own, another (duathlon?) group were coming along too, all to be closely monitored and guarded, as I was repeatedly to find out, by the Manvers open water lifeguards.
The course was 5km long and we would be constantly in and out of the water with 6 running legs and 6 swim legs. I recall the assurance that we would be doing it as a social tour of the route, sticking together as a group so no one would be left behind.
However, the other group obviously hadn't had that email as at the end of the first swim, where I was last getting out of the water (and had one trainer sucked off my foot by the silted shoreline) they were charging off on the first run leg. I think I may have shouted something that rhymed with clucking bell and that did the trick as they halted and waited. ( Probably they thought…'who's this wimp?').
It hadn't helped as literally just before we took the plunge into the lake for that first swim, my goggles had snapped(plastic nose bridge decayed after two years of no use).
Cathy kindly offered to go back to changing rooms for one of her 20 spare pairs, but I was fine to swim without, not being an actual wuss despite rumours. You can swim without a wetsuit (as several of GDH did) but you must have a tow float then, which needs buying. A brightly coloured cap is obligatory, but flippers and goggles are optional. Them's the rules.
So I was set, with my thick, long wetsuit – only previously worn on dry land, and not to run in! The Manvers safety team keep a very close eye on you, from SUP boards, canoes and swimmers too, and if you should turn onto your back to have a wee rest, as I was prone to do, one of them would immediately approach you and ask if you're alright and not in difficulty. Them's the rules. Cathy was particularly custodial (wrong word), acting like a mother hen or maybe a mother duck escorting her ugly slow ducklings( i.e. me ) across each swim section. I must say Wendy McMahon was brilliant in the water too, it being her first experience of such an event and I'd say no stronger a swimmer than I was. But Wendy ploughed on, with her inimitable front crawl style and was often in similar water to me. (Rough). I think we improved as the swims lengthened, and on the runs we warmed to our task, with the emphasis on warm thanks to the blazing sun.
There is no photographic record of what did or didn't happen, but various strava feeds suggest we were active in both water and on dry land, though due to the difficulty of suddenly trying to program my Garmin for multi-sport duathlon just before entering the water my strava says a run of 4.06kms in 51mins with 88m elevation at an ave pace of 10.42/km. Not sure what that means…
I would say, bad joking aside, that it's a fun event and a good challenge too if you're not a strong swimmer, and hope we might see more GDH out if it's on next year. If I was a better swimmer, like say David, I could take to the water more often.